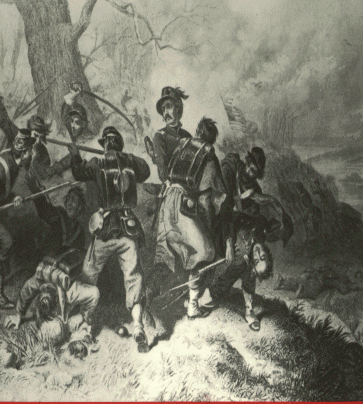 Excerpts from the "Harvard Memorial Biographies" entry on Henry May Bond who served with the 45th Mass. and, finally, with the "Harvard Regiment" (20th Mass.) during the Civil War. The last full measure of devotion...
"With a keen susceptibility to all the pleasures of the senses, he was perfectly pure and temperate. General Macy says of him, " He was the purest man I ever knew." He knew where to turn for strength. In his Junior year he joined the Church; his father's pastor and warm friend, James Freeman Clarke, becoming his also. He carried into his relations with the Church the same frank kindliness, the same hearty earnestness, that he showed in the other relations of life. His religion, like all else in him, was practical. Mr. Clarke summed it up in a few words, as " a simple honest purpose to do right and be right."...
After graduating in 1859, he became partner in the house of Walker, Wise, & Co., booksellers and publishers in Boston. When war threatened, he with his brother William joined the Cadets, in order to prepare themselves to do their part...
he...won the hearts of his men, and left stamped upon them the memory of a Christian soldier. As one of them said on his return to a friend of the family, inquiring about the Bonds:—
" Lieutenant Bond was a good officer and a brave man, and the men liked him; but Orderly Bond the men would follow anywhere. He was a brave man; and such bravery, Christian bravery!"
He was first under fire at Kinston. He writes: —
" I had sometimes expressed a fear that I might prove myself a coward in battle, but I was determined, if my will could effect anything, my friends should not be thus disgraced. The last few moments before going into the Kinston fight I felt perfectly calm, and was exhorting my men, whenever I got a chance, to keep cool and take a deliberate aim; my only prayer being, as we advanced into line of battle, that which I have heard our Mr. Clarke say never failed to be heard,' God help me! — help me to keep my selfpossession for the sake of my men.' I somehow felt as if my prayer was answered immediately ; for I felt perfectly cool and fearless, although we were led into a nasty place, if there ever was one. .... I could not help feeling a little pleased to overhear some of my men say when I passed by their camp-fire at night, without their knowing that I was near, (this is strictly private, mother,) ' Sergeant Bond fought bully !' Pardon my seeming vanity in repeating this remark (which I dare say will not wholly please you), but it struck me with a sort of astonishment to hear that I had done anything to call forth the praise of such a plucky set of fellows as we have in our company."
To a friend and brother officer of the Forty-fifth he writes, April 13th: —
" As for myself, in the hour of personal danger, I am strong and courageous only in the faith that, should it please God to take my life while in the discharge of what I deem to be my highest duty here on earth, all will be well with me. Coward as I am by nature, I should be worth nothing either to my friends or my country without that faith in God, however short I fall of doing what I know to be right."...
In the terrible battle of the Wilderness, May 6, 1864, Henry was wounded in the jaw. General Macy writes: —
" So faithful to what he considered his duty was he, that after receiving this wound, he sought me to report before leaving, subjecting his life to a thousand chances to do so, as he was walking through a storm of bullets. I however saw him coming towards me, and made a sign for him to go to the rear, which he did, and where I joined him in a few moments. Through two hours of such fighting Henry was of great service to me."
He wrote this letter from the hospital at Fredericksburg, Monday, May 9,1864: —
" My Dear Mother, — I fear, before you see this letter, you may hear from other sources that I have been wounded. But there has
been no possible means in my power of sending word to you
My right jaw-bone is fractured; to what extent, other than that it is not crushed into little pieces, the doctor could not tell. The ball
entered my cheek and lodged against the jaw-bone I think I
am very fortunate in my wound, when I look at the frightfully mangled bodies around me. I am debarred the privilege of eating at present (taking only liquids, such as beef-tea, &c). I long for ice-cream to quench the fever; we fortunately have ice here, which is a great relief."
Yet despite the fever, he would not touch a lemon given him by a dear friend who happened upon him while engaged in hospital duty, but gave it to those more severely wounded than himself. To this same friend he expressed his regret that his wound should take him from the field when there was so much need of men. He never lost his spirits, and amused his wounded comrades around him by making wry faces at them.
On Wednesday, May 11th, about three, P. M., he left Fredericksburg in an ambulance for Belle Plain, some eight miles distant. At two o'clock the next morning they had only reached White Oak Church, a distance of about five miles. Here the ambulance was attacked by Mosby's guerillas. Henry was sitting on the front seat with the driver; Captain Mali and Captain Perkins of his regiment were inside, being very severely wounded. The order was given by the guerillas to get out and unhitch the horses. Before those who were able could obey, they were fired into. Henry then asked Captain Mali for his pistol; but before he received it he was shot through the body from behind, the ball entering between the shoulder-blades, passing just above the heart, and coming out through the left lung and breast.
He fell forward to the ground, and there he lay during the night. The horrors of that night let its own darkness cover. Captain Mali says, " I never felt so bad in my life before; both Perkins and myself being unable to move, and he lying dying four or five feet from us." Sergeant Dunn of the Massachusetts Fifty-sixth found him in the morning insensible from loss of blood; and though at first thought dead, he was at length placed in an ambulance, and had his wound dressed. His father, who had gone to the front to attend to the wounded upon the first news of the battle, met him about two miles beyond Belle Plain at ten o'clock that morning. He was taken on board a transport to Washington, and carried to the house of a friend. His father, warned by the surgeon that the time was short, said to him, " Whatever may be the issue, I know from your life and your letters that you are prepared for it." He replied, " I don't know as to that, father; I have always tried to do my duty." His father says: —
" He then went on, as calmly as if I were visiting him and about to leave, to give me kind and affectionate messages for his friends. .... He gave a most beautiful one for his mother, which I most deeply regret that I did not remember verbatim. He said she was the only mother he had ever known; and had she been his own, could not have been more kind and loving to him, or have had his love more fully. After this I restrained him from talking as much as possible."
He had wished for his mother's and his sisters' hands to dress his wound ; and his wish was, at least partly, fulfilled. His youngest sister and a favorite cousin were with him at the last. He knew them both and greeted them in his own cheery way. As always, he was thoughtful for others, and not for himself. Even in his wanderings he spoke only of the regiment or the wounded; no word of his own sufferings, no word of reproach against his murderers.
There was hardly a hope from the first; and on Saturday, May 14th, at ten minutes before two, P. M., he breathed his last."
Blessings